Lori Hops and Tina Boncina discuss "Logosynthesis as a Psychotherapeutic Model". Presented on Logosynthesis Day, January 11, 2023.
***Lori Hops interviewed by Michelle Greenwell on Be Well, "Exploring Intuition and Light Language, with a breathing meditation and imagery from light langauge at the end of the interview. November 27, 2022. 
***Lori Hops Interviewed by Cathy Caswell, "Supporting Self-Care for Healing Professionals Using Logosynthesis", on April 30, 2021.
***Free Webinar: Healing Trauma Using Energy Psychology: A Dialogue with Psychologist Lori Hops
In this interview we dive into:
Dr. Hops' personal and professional journey, integrating traditional psychotherapeutic and energy psychology approaches in her practice and the challenges she faced in doing so.
What commonalities can we find among a wide variety of EP approaches to working with trauma and perhaps why they continue to demonstrate such high levels of efficacy for working with trauma with such elevated levels of safety?
Important considerations for practitioners working with traumatized individuals given practitioner skill level, trauma informed training, scope of practice and professional licensure.
What EP practitioners should contemplate regarding working with trauma clients and the importance of developing collaborative relationships with trauma trained licensed practitioners?
A discussion of developing changes for energy and energy psychology practitioners with regards to standardizing certification programs in the United States that has important implications for the profession.
Hops' vision for the EP/Tapping field in 20 years?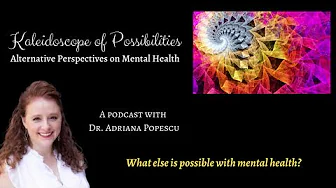 ***Podcast: Empowering with Energy Psychology, with Dr. Lori Chortkoff Hops
Kaleidoscope of Possibilities with Adriana Popescu, Ph.D.
In this episode: ● Lori's journey, inspired by her grandmother ● Knowing and getting into trouble with knowledge ● Discovering ACEP ● The energy psychology seed story ● Meridians and psychological and emotional freedom ● EFT – Emotional Freedom Techniques ● Scientific studies with powerful results ● Knowing what is possible ● Is energy psychology for you? ● Logosynthesis – bringing together energy by using words ● Sentences and retrieving energy from frozen moments ● Releasing what is not yours ● Bringing back your energy from your reactions ● Our essence and the matrix ● Intuition explored ● Using your own natural abilities ● Chakras ● The benefits of developing your own internal GPS ● Empowerment
Additional links for Empowering with Energy Psychology:
***Podcast: The Science of Intuition: Appreciating It's Influence
Clearly Clinical Podcast Episode 72
Dr. Lori Chortkoff Hops, discusses the science behind intuition and its use both in and out of the therapy room. Apple Light Up The Couch